What is a Sitemap?
XML Sitemap is a website's URLs list in XML format. The Sitemap file is designed to inform search engines (such as Google, Bing, Yahoo, Yandex, MSN, and others) about the pages on the website, which should be indexed. Sitemap significantly speeds up site scans.In addition, the Sitemap allows you to transmit information about all pages of your site, including those that search engines can not get with the usual crawl.
Creating a Sitemap is especially useful when:
On your site new pages are generated automatically and frequently.
Your site is new, and it indicates a small number of links.
Your site has a large archive of content pages that are poorly or not at all related to each other.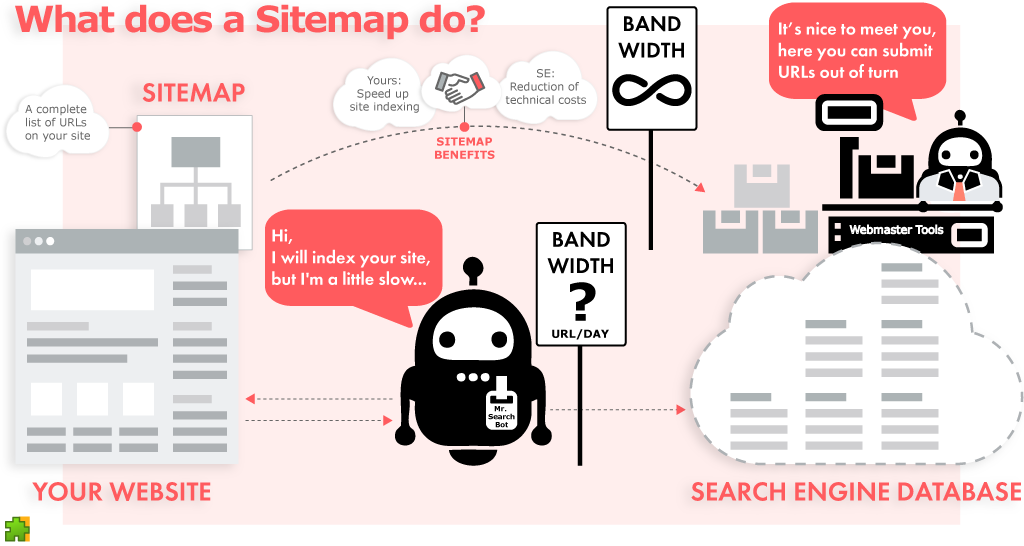 XML Sitemaps Protocol: What does a Sitemap contain?
In accordance with the XML Sitemaps Protocol and the requirements of search engines, the Sitemap file should contain no more than 50 000 pages and not exceed the size of 10 MB. This means that if your site contains more than 50,000 pages and file size Sitemap than 10 MB, you must create multiple Sitemap.
Syntax:

    <urlset>
        ...
            <url>
                <loc>URL</loc>
            ...
            </url>
        ...
    </urlset>
In addition to the required URL parameter, the XML Sitemaps protocol provides additional tags for each page:
Lastmod – indicates the date of last modification date.
Syntax:

    <lastmode>Date (ISO 8601)</lastmode>
Changefreq – the probable frequency of the page content. Valid values are:
always – every time the page loads
hourly – every hour
daily – every day
weekly – once a week
monthly – once a month
yearly – once a year
never – means that the page content remains unchanged.
Syntax:

    <changefreq>Valid value</changefreq>
Priority – the priority of the page relative to other pages on your site. The valid range - from 0,0 to 1,0. This tag lets the search engines know which pages you think are most valuable.
Syntax:

    <priority>Decimal from 0.0 to 1.0</priority>